Last updated 9/12/02. Comments, questions or corrections? Contact Art Flavell
Home •
Chorus •
Quartets •
Events •
Newsletter •
Photo Album •
History •
District •
SPEBSQSA •
Fairbanks
www.mosquitonet.com/~flavell/chorus.htm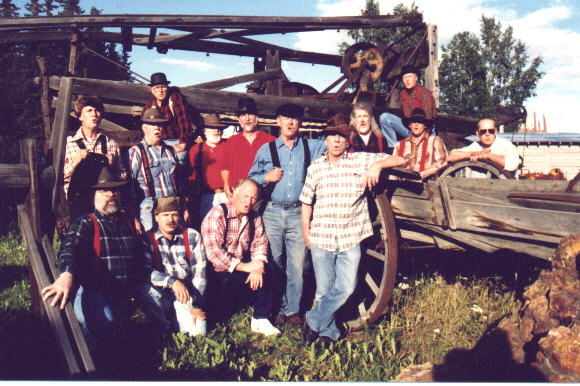 Welcome to the Great Land Sounds
Chorus Page
The chorus includes men of all ages and from all walks of life, but we all have one thing in common... a love of four-part harmony in the barbershop style!
Regular meetings are held every Tuesday at 7:00 p.m. at the Church of Christ Northern Lights. Rehearsals are at 645 11th Avenue in Fairbanks. Feel free to drop in for a visit anytime.
Of course, we do more than rehearse! The whole purpose of rehearsals is performances, or singouts in barbershop parlance. One regular performance date is a monthly sing with our friends at the Pioneers Home. Check out the Events Schedule for a complete listing of Chapter activities.
For more information on visiting or becoming a member of the chorus, please contact one of the following chapter officers or any chorus member you meet.
Chapter Officers
President - Bruce Lougheed ..... 479-7646
Past President - Jim Boswood ..... 488-9527
Music Director - Jo Knox ..... 451-0204
VP of Music and Performance - Steve Caskey ..... 457-3216
VP of Chapter Development - Bob Miller ..... 488-0429
Secretary - Mike Ferguson ..... 474-4911
Treasurer - Charlie Cannon ..... 456-1311
Librarian / Member At Large - Richard Hansen .....452-3918
Bulletin Editor - Art Flavell ..... 455-7535