Newman's World
---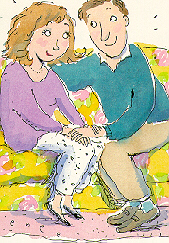 Welcome to our world! This is Kurt & I every evening!! Just as if we had just met!
NOW HOW MANY OF YOU BELIEVE THAT!

Well I'm finally updating Ciara's page. She is now a big 1year old and getting smarter and prettier everday! Kurt and I are busy building a picket fence to keep Ciara in the yard and out of the street. Other than that life is the same old work-a-day world.
We have been busy trying to get Kurts and his dream of his boat business off the ground. So if anyone knows anyone coming to Alaska or in Alaska looking for some boating fun Please Let us Know! I went back to work part time , that was a hard choice to make but the dollar is always the bottom line. Ciara likes her daycare and it is working out ok for now, time will tell. I am still learning how to do this website stuff so bear with me as I learn and make changes. I will try to update this more often, but free time is hard to come by with Miss Ciara walking and wanting to type everytime I come in the computer room. Please e-mail us anytime and KEEP IN TOUCH. Here's to a great summer for everyone.

CIARA EMILY NEWMAN Updated!!!!

Check out ANOTHER NEWMAN-- Cindy


E MAIL us NOW ! PLEASE !


BACK TO HOMEPAGE