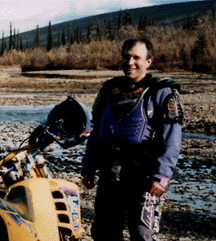 Wild Alaska Distributors has been in business for nine years and is starting its fourth year selling KTM and Husaberg motorcycles. Wild Alaska is the most northern KTM dealer in North America and is uniquely positioned to help other riders discover the roads and trails of Alaska. Bob Siftar is the owner and is an enthusiastic rider (with enduro and touring roots) who moved to Alaska in 1980 using his BMW motorcycle to haul himself and his girlfriend (now wife) up the Alaska Highway from Pennsylvania. After exploring as much of Alaska, Yukon and Northwest Territories as he could, he decided to make this land of nearly limitless adventure his home. The adventure continues with his quest to connect as many new trails as possible and to introduce as many motorcyclists to the joys of riding in Alaska. A new adventure began as his sons started riding their KTM 50s.
Bob Siftar is an avid rider who enjoys all types of cycling and tries to ride as much as possible, most often exploring off road, since it gives him the most action and excitement. When time permits, he likes riding the Taylor Highway to Dawson City, Yukon Territory and then up the Dempster Highway to Inuvik, Northwest Territories. Another favorite is the Dalton Highway that follows the Trans-Alaska Oil Pipeline to the Arctic Ocean.
Bob is an active member of the Fairbanks Motorcycle Racing Lions, and spends extra time to help new peewee riders and their familys become acquainted with the 50cc mounts. This helps insure their first motorcycle experience is a great one. Also, Wild Alaska has several support riders who dominate certain motocross classes.
In the spring of 1996, Bob formed a trail riding group whose focus is two wheeled exploration and he helps organize several off road competition events. New participants are encouraged to join in the fun!
return to Wild Alaska home page