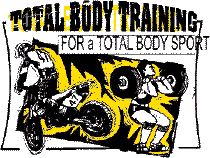 Jan-Mar 1999
Volume 1, Issue 1

PRO Profile
Rider Profile: Ryan Terlecki
Home Town: Salem, Oregon
Age: 20
Turned Pro: 1995
1999 AMA National Number: 40
AMA Points earned in 1998: 95
Riding for: Insane Terrain, Pro-Caliber, Leininger Polishing & Plating, Tom Morgan Racing, Redline, Throttle Jockey, Thor and of course MotoSport Training.

Ryan started riding motorcycles at the age of 10. He turned pro in 1995 and this year will be riding for Insane Terrain aboard a Suzuki in the 250cc supercross and outdoor motocross series. MotoSport Training started working with Ryan in November of 1998.
"Twenty-five minute moto's seem like 5 minute moto's. The full body strength training that I have been doing since November has definitely increased my endurance. I am really looking forward to the payoff in this years series." Ryan said of MotoSports' Fundamental Conditioning for motocross program.
Look for Ryan this year at the races…(He'll be out front!)
Event Calendar

January 9, 1999
Edison Stadium, Anaheim, CA
Anaheim Supercross
Supercross season opener

January 16, 1999
San Diego Supercross
Round 2 of Supercross series

January 23, 1999
Phoenix Supercross
Round 3 of Supercross series

January 30, 1999
Kingdome Seattle, Washington
Seattle Supercross
MotoSport Training's video release featuring Lance Smail. Call 503-635-4306 for more information

February 6, 1999
Anaheim Supercross
Round 5 of Supercross series

February 13, 1999
Tampa Supercross
Round 6 of Supercross series

February 20, 1999
Atlanta Supercross
Round 7 of Supercross series

February 27, 1999
Dallas Supercross
Round 8 of Supercross series

March 6, 1999
Daytona Supercross
Round 9 of Supercross series

March 13, 1999
Houston Supercross
Round 10 of Supercross series

Get your hands on the latest edition of the MotoSport Trainer!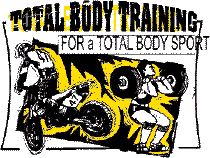 Lance Smail premiers in new training video
Tom Konicke

(Federal Way, WA) – MotoSport Training is pleased to announce that 3 time National Four-Stroke Champion, Lance Smail just completed filming for a new training video to be released in January of 1999. MotoSport Training has been working with Lance since August of 1998 to implement a sport specific training program to prepare him for the upcoming 1999 Supercross season.

The new video, which is scheduled to be released in time for the Seattle Supercross, will be available as part of MotoSport Training's Fundamental Conditioning for Motocross Package. The package retails for $69.99 and besides the video includes a training planner, "Virtual Trainer" access via a personalized access code for the MST website, nutritional guidelines, flexibility exercises for staying injury free, sticker kit and a subscription to the quarterly newsletter.


Lance stretches on location for his practice session in Federal Way, WA. Lance is set to premier in MST's Training Video in January at the Seattle Supercross

The training program itself lays out the three phases of training that combine to form a solid basis for sport specific conditioning that is so crucial to succeeding in the sport of Motocross and off-road motorcycle racing.

"Motocross is a total body sport, we use every aspect of the body when we race. MotoSport Training's Fundamental Conditioning Program applies techniques which target all four limbs making the work we do in the gym match what we are doing on the bike" said Lance Smail.

Lance premiers in the video to demonstrate the training techniques that form the basis of the Fundamental Conditioning package. Jeff MacDonald, President of MotoSport Training, also appears in the video presenting other training highlights and techniques.

---

Your bike is ready--Are you?
Jeff MacDonald

When competing in any sport there are movements (mechanics) of the body that are specific to that sport.

Riding practice is certainly the most sport specific movements for motocross. However, we must train the body's physical ability, reaction time, coordination and cardiovascular conditioning beyond what practicing can offer. Why? There are many reasons:

•Performing sport specific exercises through a full range of motion are necessary to maintain flexibility and prevent injury. Riding does not offer this.

•Practice riding does not facilitate the same training effect as riding at race pace (therefore the only time you're truly training is when you're racing).

•Sport specific conditioning "overloads" the cardiovascular and muscular system allowing much higher levels of physical fitness.

Reflexes and reaction time are only trained while racing if one needs to respond to a situation. Sport specific conditioning of the neuromuscular system speeds reflexes and the ability to react on the track.

Remember that practice riding improves riding "skills". Whereas, sport specific conditioning for motocross is about training the body's physical ability; the ability to ride as fast on the last lap as the first lap of a race.


Jeff MacDonald demonstrates proper stretching techniques to Lance Smail

Practice isn't the only area of misconception when it comes to training. Ask yourself this question: "How much time and money do I put into preparing my bike before I race?" The answer most of us will give is nothing short of: "A Lot!"

There is no question that competition level motorcycle maintenance is a key component to winning races. But what about competition level body maintenance?

An area often overlooked in favor of bike modifications, are body modifications. Training the body to perform to its highest level of physical ability, shortest reaction time, superior coordination and unstoppable cardiovascular conditioning are all instrumental in providing the equivalent of maintaining your body to the same level of your bike.

Don't sell your body short by ignoring sport specific conditioning. These may be the mod's that count the most on the last lap of race day!

Train hard, but most of all, train smart!

---

Washougal outdoor nationals

MotoSport Training "booth's" the nationals

Nothing can compare to the sights and sounds of an outdoor national motocross race. The atmosphere is second to none. For MotoSport Training, there was an event in 1998 that proved especially gratifying.

The 1998 Washougal national outdoor motocross event was the debut of MotoSport Training's Physical Conditioning for motocross package.

Jeff MacDonald was on hand to answer questions and interact with the crowd at a booth located on the East End of the complex. Along with offering the conditioning package for sale, T-shirts were available commemorating the race.

Look for MotoSport Training's booths at several of this years outdoor as well as indoor motocross events.

For those who have purchased a training program at this event, or anywhere else, please contact us for a special offer to add the new training video to your existing package.

We'll see you at the races!

---

The Arm Pump Phenomenon
Jeff MacDonald

Forearm pump is not a phenomenon. It is simply muscle fatigue caused by isometric contractions (or limited range of motion) of the muscle. More specifically, "holding on" to a motorcycle handlebar while racing requires different amounts of grip strength. Unfortunately, forearm muscles do not get worked through a full range of motion as other muscles do. This static contraction causes blood to pool, creating a lack of oxygen supply, resulting in forearm fatigue. Making sure your total body is in the best condition as possible reduces this significantly.
Many motocrossers run hills, ride stationary bikes, mountain bike, run marathons etc. These are good forms of cardiovascular conditioning, however they fail to address the upper body muscular endurance that is necessary for the sport of off-road motorcycle racing. One of the best ways to combat arm pump is to train your upper body. MotoSport Training offers a complete training program which will not only reduce the likely hood of arm-pump but will increase your body's ability to recover from the most common fatigue experienced when riding motorcycles.
Check out our program. It's the only one out there that doesn't rely on some over-the-counter miracle cure. And, it is put together by degree toting fitness professionals who are experienced motocross racers.

---

Biography: Jeff MacDonald, President of Motosport Training

Jeff started riding motorcycles at age 9. He began racing motocross in 1975 at the age of 13. In 1983 he won the Alaska State Motocross Championship in the 500 cc pro class. At the Florida Winter Series in 1984 he finished 8th overall in the 500 cc pro class. In 1985 he contested the California Golden State Nationals and finished a respectable 11th overall in the 500's. In the 250 cc pro class of the 1986 Pacific Northwest Series (PAC West), he placed 5th overall. After competing at the Hangtown and Washougal Nationals in 86', Jeff took time off to pursue a Bachelor's Degree.

After graduating from Oregon State University in 1990 with a Bachelor of Science in Exercise and Sports Science, Jeff worked as the Assistant Conditioning Coach at O.S.U., designing and implementing conditioning programs for all intercollegiate sports.

Jeff is also a YMCA certified Fitness Specialist and is the founder and president of MotoSport Training.