Bibles for Others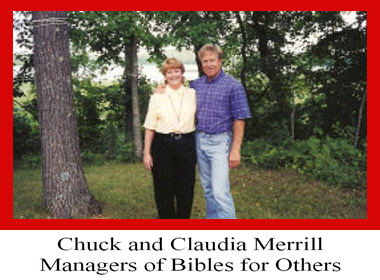 Bibles For Others was established in 1980 in Northern Minnesota by veteran Alaska Missionaries Don and Gen Nelson. At Bibles For Others, our ministry mandate is to send Free Bibles to third-world countries. One Bible per request, please. The Bibles we send are King James Version (KJV) soft cover, English language only. Also available are New Testaments, Gospel Tracts and Study Bibles (for current Pastors only).
Please use the e-mail below to send your request.
Bibles@paulbunyan.net
Be sure to include a complete mailing address including province and country.
If you would like to make a donation to support 'Bibles for Others', there is information on our Donations page.