British Columbia, Canada
October 1999.

---
The dive trip to seymour, includes a ride over on a grumman goose but we opted for a boat ride over on one of Lloyd Mcgillis's fine water taxi's. It is an hour long boat ride to the lodge with vistas the eyes never tire of. A myriad of coves & islands and enough wildlife to set the mood. We came through Schooner channel into seymour inlet, and there tucked into a small bay named treadwell was the lodge. Seymour is a small group of buildings built on giant cedar, and spruce trees. They can and do tow the lodge to different spots in the inlet. Seymour provides two dives per day, time fixed by the tides, and water movement.
I would term seymour as a invertabrate bonanza. All photos taken with a housed Cannon RebelII in an Ikelite housing with a consumer grade 28-105F3.5-4 lens, +4 diopter, in a dome port. Kodak Royal Gold 100asa print film.
Now on to the diving.


---




Dive Log &Trip Report & Photo Page, Click Here

If the link has a camera icon beside it there are photos.

A diver contemplating the days activities during a Canadian sunrise.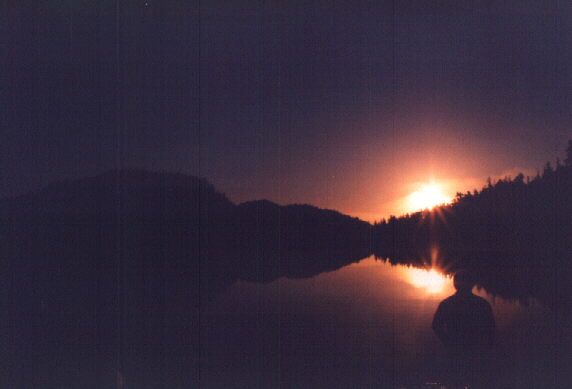 Divers Alert Network
Good Insurance, reasonable rates!