ANNOUNCING THE FOURTH ANNUAL
FROSTY FEATHERS POULTRY CLUB
CHICK AUCTION!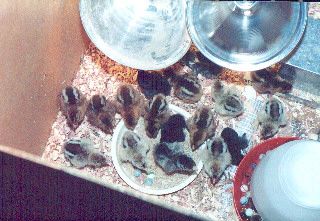 SATURDAY, APRIL 4, 1998
IN THE
KIWANIS BUILDING, TANANA VALLEY FAIRGROUNDS
VIEWING STARTS AT 10:30 am

AUCTION STARTS AT 11:00
---
We are expecting about 300 assorted standard bred birds from high quality breeders. In addition, we have made a special effort to include some of the more popular breeeds, and we have requested a limited amount of rare, hard to find, and unique breeds. Ordered birds will be between day old and two weeks old at the time of the auction. Also, many of our local club members have donated young and adult birds. So if you want unique layers, dual purpose birds for meat and eggs, show birds for the fair, something different, or you just want to look around, come out and see us!

This is a fund raiser for the Frosty Feathers Poultry Club. Part of the proceeds will be spent on donations to the poultry division at the Tanana Valley Fair. Please come and help support poultry in Alaska.

We would also like to thank the following sponsors:

Alaska Feed Company
Grubstake Feed
Auctioneering services provided by Orbin Smith

You can find more information about the Frosty Feathers Poultry Club, as well as some tips on caring for your baby birds, on our club home page.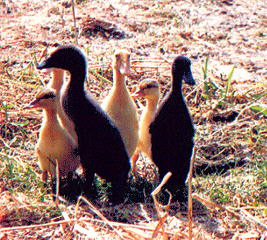 ---
Tentative Breed Listing
DISCLAIMER Since availability is dependent on weather conditions across the country, and because many of our birds are ordered as assortments from breeders who offer several different breeds, we can not guarantee that any particular breeds will be available at the auction. However, we have requested the breeds listed below. Also, for the same reasons, we may get some breeds that are not listed.
Some of the breeds below have links to pictures. Keep in mind that most breeds come in many different color varieties, and we do not have pictures of all of them. For example, we have a picture of a white Plymouth Rock, but Plymouth Rocks come in many other colors, including the ever popular barred rock.
Bantam Chickens

Large assortment of standard size Chickens

Bantam Ducks

Large Ducks

Geese

Chinese
Pilgrim
and others

Rare and Commons Breeds of Turkeys