ROOM
INFORMATION

For many years we have had the pleasure of hosting travellers from around the world. Many of these travellers have stayed in our log home and have been very happy. The log home has been the namesake of our hospitality and service. However, after all these years we regret that we can no longer offer the Alaskan beauty and comfort of our log home.
For this we are deeply sorry.
However, we are more than happy to provide other accommodations for your adventure in the Last Frontier. Read on and we hope that you will find what you are looking for.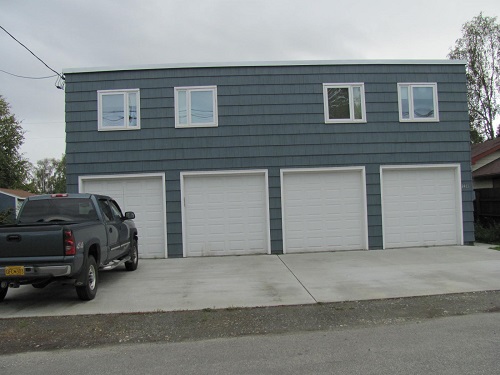 We offer 2 guest rooms in a lovely apartment building.
Each is tastefully decorated creating a relaxing atmosphere, a family setting
with all the comforts of home.
Studio

Click for larger image

Studio

Click for larger image

Studio $110.00 per night

Private entrance and bathroom (involves stairs).

Full size futon bed and King size bed (or 2 twins).

Kitchenette, Cable TV

Laundry facilities

Continental breakfast

WiFi

Air Conditioner

Patio area

Bicycles

$20 per extra person




Room 1411 $105.00 per night

Private entrance (involves stairs)

Private bathroom

Full kitchen

Continental breakfast

Cable TV

WiFi

Queen size bed

Laundry facilities

Bicycles

Patio area

Can accommodate a roll-away bed for one extra person ($20)

Hall House

Front Room

Click for larger image
The Hall House is across the street from the log cabin. It is newly decorated.

Great for families and couples travelling together.
It has a hide-a-bed, a lovely front room, and a fully equipped kitchen & laundry with internet.

There is a nice deck to enjoy our long days.

The price includes continental breakfast.

For total privacy, one couple can rent the whole house for $145 per night. Or two couples can share the house for $200 per night.


Queen Room

Click for larger image

Queen Room

Cozy room with a queen size bed and cable TV.
It shares the bathroom with the King Room.

King Room

Click for larger image

King Room

Large room with a king size bed which can be separated into two twins.
It has cable TV and is large enough to put in a roll-away.
The bathroom is shared with the Queen Room.
Rates + 8% room tax.
$20.00 per additional person.