Item P80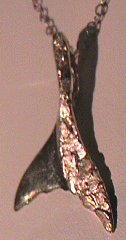 14 karat Whales Tail Pendant with Natural Alaskan Gold Nuggets
cost $110.00
This fine pendant is first carved out of a wax then cast in 14 Karat Gold and accented with Alaskan Gold Nuggets on one side of the tail.
Approx. size 1 inch
---
Item SLL3
11.6 Gram Gold Nugget Pendant
Cost $450.00
This Alaskan Gold Nugget was mined from Hunter Creek about 80 miles N.W. of Fairbanks. (Not unlike the ones used on Robert Services' coat for buttons but smaller.) It has a 14 Karat split bail soldered with gold solder to the top of the Nugget and will accept up to a 2.5 mm chain. It comes boxed with a complimentary 18" gold filled chain.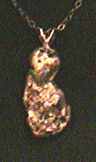 ---
Item MCS1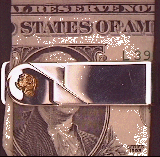 Money Clip
Cost $98.00
This Sterling Silver Money Clip has a natural Alaskan Gold Nugget attached on the end as pictured. And the dollar is included!!!!

---
Item pch74
Forget-me-not diamond pendant
cost $190.00
This hand made pendant is cast in 14kt. gold then small Natural Gold Nuggets are very carefully soldered in place around the outside. Then we have set 2 small diamonds set in the flowers. (02 ctw.) It comes displayed in a pendant box with a complimentary gold filled chain. or order with rubies or saphires
cost for rubies or saphires set in flowers $180.00
Without stones $110.00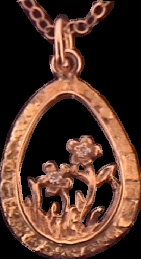 jewelers, gemstones, alaskan jewelry, eskimo jewelry, alaskan art, eskimo art, gold jewelry, silver jewelry, gold nugget jewelry,jewelry, gem stones, fine jewelry, jewelry design, custom jewelry, sterling silver, silversmith, jewelry art, jewelers, gemstones, alaskan jewelry, eskimo jewelry, alaskan art, eskimo art, gold jewelry, silver jewelry, gold nugget jewelry, jewelry, gem stones, fine jewelry, jewelry design, custom jewelry, sterling silver, silversmithing, jewelry art, jewelers, gemstones, alaskan jewelry, eskimo jewelry, alaskan art, eskimo art, gold jewelry, silver jewelry, gold nugget jewelry, jewelry, gem stones, fine jewelry, jewelry design, custom jewelry, sterling silver, silversmith, jewelry art, jewelers, gemstones, Alaskan jewelry, Eskimo jewelry, Alaskan art, eskimo art, gold jewelry, silver jewelry, gold nugget jewelry, jewelry, gem stones, fine jewelry, jewelry design, custom jewelry, sterling silver, silversmith, jewelry art, jewelers, gemstones, Alaskan jewelry, eskimo jewelry, Alaskan art, eskimo art, gold jewelry, silver jewelry, gold nugget jewelry, jewelry, gem stones, fine jewelry, jewelry design, custom jewelry, sterling silver, Silversmith, jewelry art, jewelers, gemstones, Alaskan jewelry, eskimo jewelry, Alaskan art, eskimo art, gold jewelry, silver jewelry, gold nugget jewelry

akgold@mosquitonet.com

© TIM STATON 09-01-00


Have visited our site. Thankyou!
>
FastCounter by bCentral